The man who sells church interiors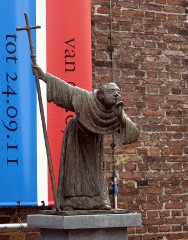 Two weeks ago Der Spiegel published an interview in English with Marc de Beyer, a man who sells pews and other items for churches that are closing their doors:
Marc de Beyer is an art historian in Utrecht, located about a half an hour by train from Amsterdam, but one could also call him a liquidator. He's a man who shuts down churches. When a parish is dissolved, when a church is shuttered, de Beyer is there. And he has a lot to do.

Some 4,400 church buildings remain in the Netherlands. But each week, around two close their doors forever. This mainly affects the Catholics, who will be forced to offload half of their churches in the coming years.
See also:
(Photo: the Dominican church in Venlo was turned into a 'cultural podium […] when the priests left the city in 2005'. This statue of a blackfriar still reminds passers-by of the building's original purpose.)
No Comments »
No comments yet.