Verstappen gets away with running down his ex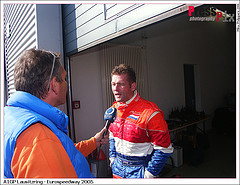 Back in January, former F1 driver Jos Verstappen pulled a pit stop and ran down his ex, and got arrested. Lucky him, he got away with yet another act of violence on a technicality.
A judge in Roermond, Limburg said that he should have been given a fine of 132 euro for destruction of property, namely two cell phones, jewelry and a handbag of the ex he tried to run down. Since that didn't happen, his 40 day detention was enough 'punishment' and he's free to fly off the handle again soon because he has anger issues that aren't going anywhere.
(Link: www.limburger.nl, Photo of Jos Verstappen by Mike Philippens, some rights reserved)
No Comments »
No comments yet.