Headscarf for women's football teams means game on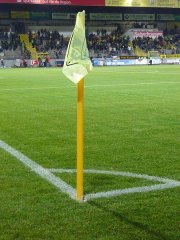 As of this summer, female football players will again be allowed to wear headscarves during professional football matches. Thanks to a highly functional design from Cindy van den Bremen of capsters.com (see range of headscarves) headquartered in Eindhoven, football governing body FIFA has decided to drop its 2007 ban on the hijab aka headscarf and the girls can now hit the pitch and play.
Back then traditional headscarves were said to be dangerous, which they probably were, but a proper Dutch design has now helped to reverse the ban, allowing women from predominantly Muslim countries to play more football.
Van den Bremen felt the ban was a big fuss over not much and didn't see the difference between a headscarf and having a pony tail in one's hair. You can also pull really hard on the collar of a male player's T-shirt too she explains.
"The sporting headscarf is not just a commercial success. It has won a Good Design Award in Japan and a place in New York's Museum of Modern Art."
(Links: www.rnw.nl, www.ad.nl, Photo by Wikimedia user Carolus Ludovicus, some rights reserved)
No Comments »
No comments yet.