Netherlands get its own Vogue magazine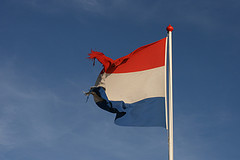 Although there's a crisis on and journalists and photographers all over the country are fighting over jobs, they decide to launch Vogue in the Netherlands. Launched on 22 March, it joins 18 other international editions around the world. Edited by former Dutch Glamour editor Karin Swerink, the debut issue features models Ymre Stiekema, Josefien Rodermans and Romee Strijd.
As long as they don't make fashion mistakes like Jackie magazine did by calling singer Rihanna a niggerbitch, they should be just fine. And we do hope it won't be all super blond and Caucasian as well.
(Link: www.vogue.co.uk, Photo of Dutch flag by Guido, some rights reserved)