Solar panels on concert hall roof for that green effect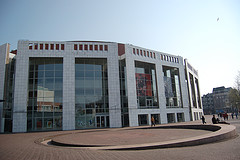 While the Amsterdam Municipal Theatre has bees on its roof, Amsterdam concert hall Muziektheater now boasts the largest solar panel installation on one single roof in Amsterdam and in the Netherlands. Some 350 solar panels cover approximately 1,000 square metres of the building's roof and will generate as much electricity as would normally be used by 30 Amsterdam households. The solar panels generate 85,000 kWh of power a year, reducing CO2 emissions by 52 tons a year.
(Link: www.amsterdam.nl, Photo of Muziektheater by Alberto Alvarez-Perea, some rights reserved)
No Comments »
No comments yet.