Automated Lego robotic lab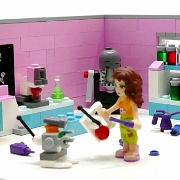 Anika Brandsma (17) from the Netherlands built this automated Lego robolab by combining the Lego Friends' Olivia's invention workshop set with Lego Mindstorms NXT.
Also check out her flying Lego, and her Lego duck, which quacks, walks and lays eggs. The entire Brandsma family is into Lego, and uses the pseudonym Vuurzoon Family (it's a pun—Vuurzoon means 'fire son', and Brandsma means 'fire mother').
Lego Friends is Lego marketed purely at girls. This makes the hitherto gender neutral other Lego suddenly appear 'boys only', or so some people fear. That is why it is interesting to see kids, or in this case teenagers, just mix and match them.
Link: Wired.