Cute blonde princesses on children's charity stamps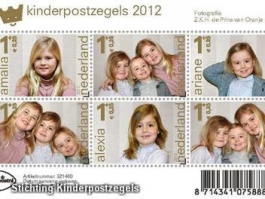 A new series of charity stamps ('kinderpostzegels'), which are sold door to door by school children raising money for poor kids in poor countries , will feature the 'Triple AAA', aka Princesses Amalia, Alexia and Ariane, the daughters of Prince Willem Alexander and Princess Máxima. The Triple AAA joke was said by the Prince himself once, we can't take credit for that.
Starting 26 September, one of the 200,000 school children who sell these stamps will ring my neighbour's door bell and sell him pics of the young blonde Dutch royals. In November, the stamps will be available for purchase at the post office.
(Link and photo: binnenland.nieuws.nl)
No Comments »
No comments yet.