A hot tub that you can take sailing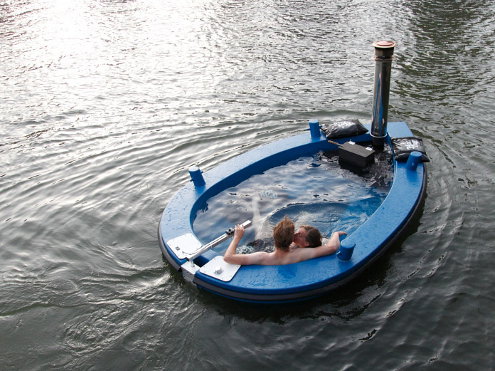 This is the HotTug, a boat that doubles as a (you guessed it) hot tub.
The boat is built from wood and fibreglass. A wood stove heats the water inside, and an electric engine propels the boat for about 2.5 hours (but there is also an 8 hour version). The entire contraption functions as a regular boat regardless of whether you fill the tub with water.
A version with stove or engine costs about 15,000 euro, but a version stripped of these accessories can be had for as little as 9,000 euro. Werf IJlst in Friesland rents out these babies for 300 euro per half a day.
The HotTug was designed and built by Supergoed from Rotterdam, the design studio behind the 'bicycle tunnel as racetrack'.
(Link: AmsterdamNews.net. Photo: hottug.nl)
No Comments »
No comments yet.