Governments mislead citizens into sending digital information to wrong address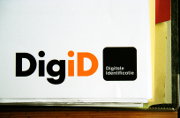 The Dutch national government has put a lot of work into its digital identification system, as DigID is pretty much obligatory for most people these days. For instance, most people cannot file tax returns without one.
However, the government would not be the government if it had not found ways to mess up its own system. The latest howler is reported by WebWereld which writes that a lot of municipalities refer citizens to an ad agency called Digi-D (note the hyphen).
The ad agency existed before the government came up with the name DigiD. The agency claims it has already received sensitive data from 10,000 mistaken citizens, and it has tried to get the government to mend its ways, so far to no avail. Being an ad agency they have now started a campaign to do what the government should have done in the first place, namely point citizens to the right address. The slogan: 'be careful with your DigiD!'
WebWereld lists several official government documents that refer citizens to the wrong organisation.
Apparently local governments have a checklist that tells them to pay attention to the correct spelling of the name DigiD, among other things.
(Photo by Mystic Mabel, some rights reserved)