Dutch incarceration rate dropped 44% in 5 years
In 2010 there were 75 prisoners per 100,000 inhabitants in the Netherlands.
This is down 44% from 134 prisoners in 2005, according to a study by the Research and Documentation Centre of the Ministry of Security. RTL Nieuws reports that Estonia had a greater absolute drop in inmates, from 327 to 259.
A spokesperson of the ministry told the broadcaster that reason for the strong decline in inmates is that the number of serious felonies has decreased a lot.
The thing that struck me in the 664 pages long report is how few prisoners we used to have. In 1980 the Netherlands had 23 prisoners per 100,000 inhabitants: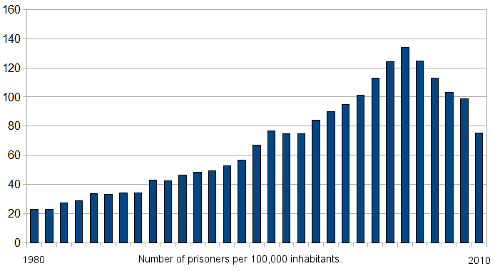 See also:
(Photo by Moira Durano-Abesmo, some rights reserved)