The ultimate condom is a Dutch Wingman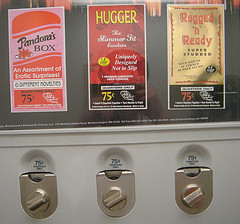 Two engineers from Delft, Paul Breur and Adnan Tunović, have finally solved decades of issues that men have had with using condoms. The Wingman condom is easy to use with one hand that doesn't even touch the condom, it's extra thin and it's safe. The 30 second film doesn't need any voice over or music to get its message across and even in the dark you cannot put it on the wrong way.
The condom was invented almost 100 years ago and very little has been done to make its use easier or more pleasant. All the colours, textures and scents have done absolutely nothing to improve condoms. Now, the use of the 'wing' to roll down the condom means no more condom odour on your hands. You still need to open the package with two hands, but they claim to be working on that bit. They have one size available, but will be launching the Wingman in more sizes once it takes off.
(Links: ans-online.nl, www.wingmancondoms.com, Photo of Condom dispenser by Quaziefoto, some rights reserved)
2 Comments »
No hassle — except that once you've applied it, you have to twist off and remove the pinchy plastic bit that's RIGHT AROUND THE BASE OF YOUR PENIS. It looks great on a glass tube, but on a real person I'm imagining potential for scrapes, snags, and pulled hair.

And is "condom smell on your hands' really an issue for anybody?

Comment by Jack Feerick — December 4, 2012 @ 1:58 pm

I wouldn't know about the first bit, but you do raise a point. The second bit is an issue depending on the brand for many of my friends. But yes, condoms are pretty nifty things.

Comment by Orangemaster — December 4, 2012 @ 2:17 pm