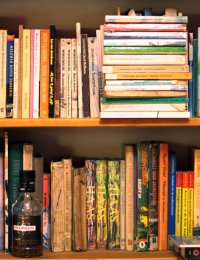 After analysing 16 mathematics books and 17 Dutch-language textbooks used by secondary school students in their first year, Judi Mesman, a researcher from Leiden and her team concluded that they were full of stereotypes about women and people with an ethnic background. As you might expect, men were in greater numbers, depicted in real jobs like scientist and women were not as present and if so, often doing motherly things.
Let's get into that one first. Is anybody surprised? Probably not, and it's an easy fix for the future. It's also easy to understand and prove that kids are sensitive to subtle messages about sex and stereotypes, shaping their world view. However, the truth is, Dutch society has tons of women working part-time – the highest level of part-time workers in Europe and beyond – and being the main carers of children and the elderly, earning less, and not making a serious enough appearance in the boardroom, let alone in other male-dominated jobs. Is it a stereotype or actual social commentary? And will depicting more equality change a system based on men working full-time and women working part-time, even without having children? I'm not optimistic, but feel free to try. Show men doing housework and being fathers instead of babysitting their own children, and show women doing real full-time jobs, not simply standing in as diversity hires.
As for what the Dutch call 'non-Western migrants', implying Turkish, Moroccan and the likes (funny enough including Mexicans, but not the Japanese IIRC – that's a whole other discussion), they are underrepresented and shown in what we used to call 'blue collar jobs' as opposed to 'white collar jobs', to use classic stereotypes. Ask someone from Suriname in a good job how many times they've been mistaken for the cleaner. Sad but true, this is the reality in the Netherlands, which makes these images closer to reality, and I can imagine more painful than hopeful.
Good on the Dutch for wanting to create books with less stereotypes in them, but then there's always wonderful authors like Sanne de Bakker who wrote a children's book on Suriname conflating discrimination with facts or even a colouring book for children featuring Hitler that was casually sold at a Dutch drugstore chain.
Please teach children how to count, so that women can make an effort to be financially independent (still 60% are not) rather than rely on a partner, often a man, who might decide to show their maths skills by paring up with someone who is able and willing to be their equal.
(Links: dutchnews.nl, nos.nl)