Coffins increase in size due to obesity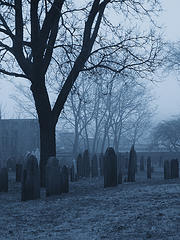 Dutch coffin manufacturers are saying that the demand for large coffins is growing due to the increasing obesity of Dutch people. These coffins are far more expensive than the regular ones as they have to be made by hand. Moreover, 60% of Dutch crematoria have adapted their ovens to be able to cremate obese people, a bit like revamping your fire stations to make sure your big new fire trucks fit in them.
The National Organization of Crematoria says that businesses are now equipped to burn big people throughout the Netherlands, a process that lasts longer than normal due to the surplus fat and able to do so, as it is more difficult. Obese people should preferably be cremated at the beginning of the day when the oven is not yet at full temperature.
(Link: badnewsfromthenetherlands.blogspot.nl, Photo: Salem graves by by Alanna Ralph, some rights reserved)
No Comments »
No comments yet.