Lenin's statue overshadows royal visit in Assen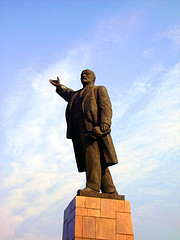 A 10-metre-high statue of 'our friend' Lenin has been adorning downtown Assen since last November, as promotion for the exhibition The Soviet Myth currently featured at the Drents Museum.
Now that the future king Willem-Alexander will be visiting Assen in late May, the statue is in the way, as it blocks a big part of downtown used for big events like the famous TT motor race. And let's face it, Lenin has surely killed the buzz of many a party in the past so he can surely make himself scarce again for some royals. (Someone please notice all the historical references crammed into that one sentence).
A huge statue that apparently weighs 17,000 kilos has not only become a royal eyesore, but its placement has been controversial from day one. Responsible for the death of hundreds of thousands of people if not more, a 'Stalin light' if you will, having a statue of Lenin around is seen by many as just plain gross, although I do get the fascination factor. I wonder if any Dutch museum would do the same if Stalin or even Hitler were featured.
(Link: www.parool.nl, Photo of Lenin in Ukraine by covilha, some rights reserved)