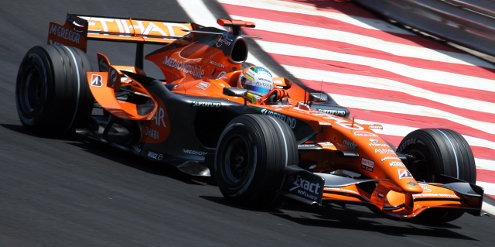 The Court of Middle-Netherlands has declared car manufacturer Spyker bankrupt, Channel News Asia reported last Thursday.
Internationally the sports car manufacturer was perhaps best know as the company that bought Saab in 2010 for 1.5 billion euro. CEO Victor Muller said the line of sports cars had been doing well, but that "we had to pay dearly for our other activities."
Spyker is a name with some history in the Netherlands. In 1880 coach builders Jacobus and Hendrik-Jan Spijker founded a company with that name which amongst others built the Gold Coach that was given by the citizens of Amsterdam to Queen Wilhelmina and that is still in use today. The company went bankrupt after one of the brothers died when the ferry he was on sank, but was bought by another party and continued until 1926. It also built aeroplane engines and provided the inspiration for cartoon hero Oliver B. Bumble's car De Oude Schicht (The OId Flash).
In 1999 Victor Muller used the brand to start a new car company. Last Thursday Muller said he would "relentlessly endeavour to resurrect Spyker as soon as practically possible." Unless of course somebody else buys the intellectual property from the trustee. Interest in the company appears to be healthy.
With Carver and now Spyker bankrupt, soon the only cars produced in the country might be flying cars—assuming they ever get off the ground.
(Photo of Adrian Sutil driving the Spyker F1 by Morio, some rights reserved)