First amputee football match between Belgium and Netherlands ends in fight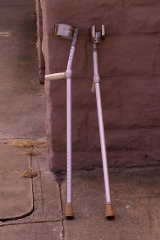 Yesterday the town of Westerlo in the Belgian province of Antwerp was the stage of the first-ever football match between the representative disabled teams of the Netherlands and the host country.
Both teams fielded one-legged players on crutches (except the goalkeepers who were missing an arm). What should have been a party ended in a fight. At a 3-3 score the crutches of two players hit each other. After the players got into an argument, testosterone-laden onlookers stormed the field under the watchful eye of Belgian national television.
Not all competitors were phased by what happened. One Marnix Huys of the Belgian team said, sat smiling in the grass: "I felt we were doing well. A couple of beginner's mistakes, but all in all we had reason to be happy. It was a pleasant match with a few incidents that should not have happened, but other than that things went well. In the end we got stronger and stronger both physically and technically."
(Photo by Kevin Prichard, some rights reserved)
No Comments »
No comments yet.