Den Bosch turned old country road into nature preserve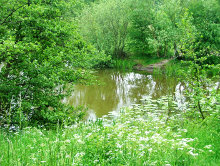 When the city of Den Bosch expanded eastward in the 1980s, it gobbled up an old stretch of Meuse dike called Heinis. Originally developers wanted to build a business park there, but protests put a stop to those plans.
Instead, the city decided to build around the area as Mark Wagenbuur writes:
For ages this country road ran through the fields, but the city expanded and new parts were built north and south of this east west road in the late 1970s. Residential areas to the north and an industrial area to the south. By 1980 the old road was suddenly in the middle of the city.

When this was still a real country road there were many rural houses on it. […] Many of the more contemporary houses were destroyed but all the monumental farm houses remained. There were so many of those that the road still has the atmosphere of a country road.
Motor traffic on the old road is now restricted, with bridges spanning gaps in the old dike to let bicycles across.
From a conservationist's perspective, the area is important for its 'wheels' (I don't think there is an English word for the phenomenon), small but sometimes deep ponds made by kolks breaking through dikes, what IVN/Vogel- en Natuurwacht 's-Hertogenbosch e.o. calls "mementos of the sometimes unsuccessful battle against water."
Here is a Google maps link. Although I cannot show you many photos of the area, the link above to Mark Wagenbuur's article also leads to a video of a bike ride through the area.
(Photo of a 'wheel' in Heinis by Geert Smulders who released it into the public domain)
No Comments »
No comments yet.