Mobile football stadium solves problem of derelict stadiums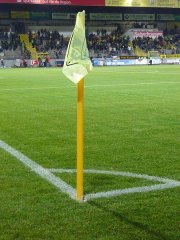 Marcel Klomp, a graduating student from the TU Delft, has designed a mobile stadium that seats 50,000 and can be taken apart to fit in 150 40-foot containers. It is a serious solution to the international problem of building a huge stadium like in South Africa for the World Football Cup or in Beijing for the Summer Olympics with the stadium barely being used afterwards.
His design made from aluminium and steel allows installers to put the stadium up in eight months. "If the stadium is used eight times in 30 years, it will be profitable. It will cost about 250 million euro and can last 50 years", Klomp claims. A permanent stadium costs much more time and money to build, is usually not profitable and is done out of prestige rather than future need. It is probably time for many countries to stop building uselessly and look at a realistic alternative like the mobile stadium. In fact, one of the reasons the Dutch population is not on board with Amsterdam having put in a bid for the 2028 Summer Olympics is knowing that the entire endeavour is a big loss from the get-go.
Klomp says the interest in his design is 'overwhelming', and since it is a graduation project, it needs to be worked out 100%.
(Link: www.kennislink.nl, Photo by Wikimedia user Carolus Ludovicus, some rights reserved)
No Comments »
No comments yet.