Planned bomb detonation interrupts trains to and from Venlo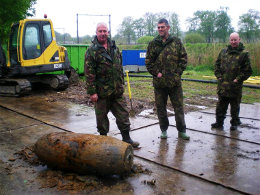 Tomorrow the Dutch army will detonate two World War II bombs on the site of the former army base in Blerick, just across the Meuse from Venlo.
Both bombs are English 500-pounders that were found last May at depths of 1.5 and 1.75 metres respectively. After the failure of Operation Market Garden in 1944, the Meuse became the front line for several months. Although Blerick had been liberated in December 1944, Venlo had to wait until March 1945.
The mayor of Venlo called the destruction of two bombs in his municipality "nothing special", but he stressed that he had nothing but respect for the bomb disposal unit, Dichtbij writes.
The army base was built in 1910 on top of the old Fort Sint Michiel. Even in literature the area saw action. Twin brothers Beekman tried to help stop the Nazi invasion in 1940 from casemates in front of the base in the book Beekman en Beekman, which according to its publisher is the best selling novel ever in the Netherlands, Wikipedia writes.
(Photo of a 1000-pounder in Bunnik by the Ministry of Defense, some rights reserved)
No Comments »
No comments yet.