Harrowing paintings win national youth art contest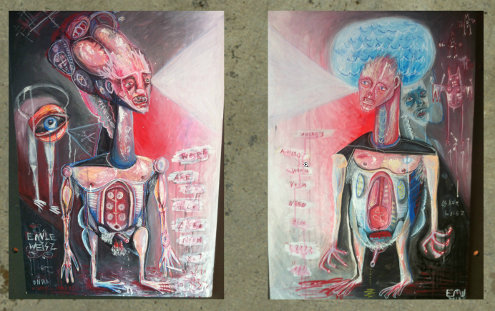 Fifteen-year-old Emile Weisz from Margraten, Limburg won youth art contest Kunstbende, an annual art competition for teenagers in the Netherlands aged 13 to 18. It is subdivided into eight categories: dance, DJ, expo, fashion, film & animation, music, language and theatre & performance. Weisz is the winner of the expo category, the theme of which was 'Heroes'.
His two paintings represent his brother and him. Weisz' brother has some sort of serious disease (the family spent four years in the US for treatment), something that not even a superhero could save him from.
The jury of the expo category included last year's winner Christopher Bol, Zippora Elders, comics artist Maaike Hartjes (who alerted us to the competition), Marieke Hoogendijk and Kim Keizer.
Older work by Weisz can be found at http://emileweisz.blogspot.nl/ if you scroll down a bit.
(Source photo: Prezi / Kunstbende / Emile Weisz)
No Comments »
No comments yet.