Chinese vase turns family into multimillionaires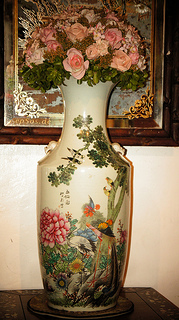 In 2003 an anonymous Dutch family inherited a Chinese vase and assessed its worth at 12,500 euro for the tax people. The rare vase of the Han Yuan dynasty then skyrocketed in value between 2003 and 2005 up to 100,000 euro according to the family, due to the many rich Chinese that were interested in buying these vases.
Just 20 months later at an auction at Christie's in London, the vase went for a whopping 23 million euro. The tax people took the family to court, as they felt cheated and wanted to see a chunk of the megabucks. The family appealed the decision and the court made them settle at 10 million euro.
(Link: www.quotenet.nl, Photo of Chinese vase by epSos.de, some rights reserved)
1 Comment »
[…] money to buy art is outside the old continent it seems. Dutch people who discovered Russian or Chinese art works in their attic suddenly found themselves quite a bit richer. But also Dutch baby formula […]

Pingback by 24 oranges » Looking back at 2013 — December 31, 2013 @ 11:20 am