Fax machine dies and pony crusher rides again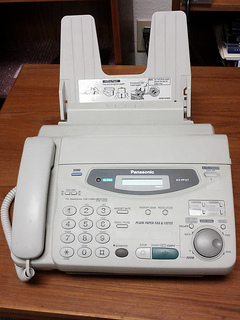 We found the slowest summer news item of 2013: 'The town of Uitgeest [North Holland] is 'limiting' its communication with citizens', the Dutch title reads. What gives? The town hall of Uitgeest has cancelled its fax number after an employee discovered that the fax machine had broken down last month. Since many people don't use faxes anymore and the town can't be bothered to buy a new fax machine if even possible, faxing time is over in Uitgeest.
Amusingly enough I talked to a reporter from RTV Noord Holland about this and asked him why they thought this was newsworthy. He laughed and told me that the guy who wrote the story lives in Uitgeest. Then I talked to him about some news they broke this summer about a woman (a firefighter no less) making disturbing videos sitting on ponies to crush them. Apparently, she's back horseback riding after having spent some time in jail. She claimed to have made the films for money during a bad patch.
The Dutch word 'ponypletter' ('pony crusher') and 'ponyplet' (to pony crush') was coined by my source and could possibly be on the list for a Dutch word award despite its connotation.
(Link: www.rtvnh.nl, Photo of Dead fax machine by shalf, some rights reserved)
No Comments »
No comments yet.