Solar car from Eindhoven rated street legal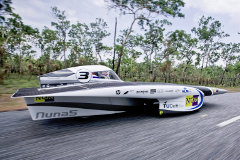 A team of students from the Eindhoven University of Technology has created a solar powered family car that is street legal, Telegraaf reported last Tuesday.
The car called Stella was created by Solar Team Eindhoven in a bid to win the Cruiser Class of the World Solar Challenge in Australia this October. Stella is 4.5 metres long, 1.65 metres wide and seats four. It can go 430 kilometres on a single charge. The solar panel has only got an efficiency rating of 22%. Spokesperson Wouter van Loon told Bright last month that this was a conscious decision: "We could have opted for a space-grade panel, but this way we keep the car affordable."
The car's top speed is only 120 km/h because the special low-friction tires cannot handle more. In the past teams of the universities of Twente and Delft also participated in the World Solar Challenge. Delft's car Nuna, shown here, won the race 4 times out of the 7 it entered, and in 2011 it finished second after Japan's Tokai Challenger.
(Photo of Nuna5 by Nuon Solar Team, some rights reserved)
1 Comment »
[…] week a solar-powered street legal car named Stella, built by students from the Eindhoven University of Technology, was entered into the World Solar […]

Pingback by 24 oranges » Eindhoven nails first place in cruiser class at World Solar Challenge — October 16, 2013 @ 5:56 pm