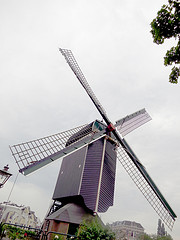 I'm sure you all remember the video that went viral explaining the Netherlands to Trump, presented on the Dutch television show 'Zondag met Lubach' and the narration voiced by the talented Dutch-American Gregory Shapiro.
Here below you can watch American teens reacting to this video, and you should. One of them said "Whoever is speaking in this is doing a great job" and I agree with her. When I first posted the video, I wasn't sure it was Shapiro doing it, but after it went viral, he did a tour of the Dutch talk shows and confirmed it.
While the teens express mostly praise, they felt the video took jabs at the US and the word 'disrespectful' came up as well, but overall, according to the presenter, the video was liked by people on both sides of the aisles (Democrats and Republicans). One of the teens who plans on joining the military has some poignant remarks to make about Trump and going to war.
The video mentions pony park Slagharen, which recently announced they would be
getting rid of their ponies, mainly because "they do not fit in with the park's future plans".
This video was published on 31 January, when Trump has only been in office for a few days. And what if they asked the teens now or in a year from now what they think of Trump or about their answers at the time? That would be interesting to watch as well.