Wolves return to the Netherlands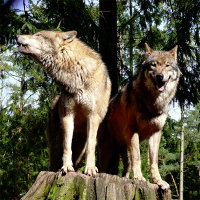 When a dead wolf was found in Flevoland last July, it was originally thought that pranksters had planted it there. Wolves hadn't been spotted in the Netherlands since 1897.
Now there are indications that it may have gotten into the country on its own power. Earth Island Journal writes:
The female wolf was about one and a half years old and appeared to be in good health, the coalition said in a statement (the statement is in Dutch). It said the body showed no signs of having been transported to the Netherlands post mortem. The body didn't show any signs of having been frozen and there were no traces of wear on the fur, soles and nails that would indicate captivity, the researchers said.
In addition, possible wolf pellets have been found in a wood on the Noordoost polder, close to where the body was found, they said. […] The pellets contained traces of deer and fox. Scientists had said earlier the wolf's last meal appeared to be a beaver. 'These are all animals found within 50 kilometres of where the wolf and the pellets were found,' the researchers said.
Thanks Fred Yoder for the tip!
(Photo of European wolves by Gunnar Ries, some rights reserved)