Diederik Stapel for hire as a chauffeur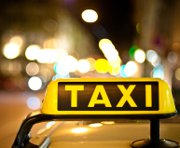 The Netherlands' favourite scientific fraudster, Diederik Stapel, is at it again.
The former psychology professor, whose name ironically also means 'crazy', has started offering zinritten, 'mind rides'. He explains on his website:
Always on the move, from A to B, hurried, no time for reflection, for distance, for perspective. […] Diederik offers himself as your driver and conversation partner who won't just get you from A to B, but who would also like to add meaning and disruption to your travel time. He will […] listen to what you have to say or talk to you about what fascinates, surprises or angers you. [Slightly paraphrased for brevity—Branko]
Stapel told Trouw in a long interview that he is out of money: "I decided not to claim the money the university still owed me because it felt morally wrong to demand what I was due. That was a difficult decision because we have run out of money for a while now. We live off loans, savings, my wife's salary and the kindness of family and friends."
The 46-year-old former professor still has to perform 120 hours of community service as part of a deal he made with the justice department.
A previous career move involved being a 'brand language consult' under the name Pile Consult.
See also: Dutch professor's fake research keeps piling up.
(Photo by Ben Fredericson, some rights reserved)
No Comments »
No comments yet.