Festive aardvark celebrates the city of Arnhem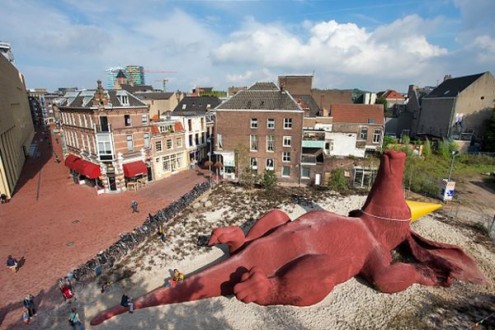 Rotterdam's Florentijn Hofman does it again in a big way, this time in a festive manner with the 'Feestaardvarken' ('Party aardvark') made mostly of metal and concrete.
The Feestaardvarken is a 30-metre-long concrete sculpture which looks like an abstract aardvark with a golden party hat. The work was made specifically for this site and commissioned by Burgers' Zoo and is a present for the 100th year anniversary of the zoo to the city of Arnhem.
'Party aardvark' is a play on words of 'feestvarken' ('party pig' in Dutch), while aardvark is an Afrikaans word also used in English meaning 'earth pig'.
(Link and photo: www.florentijnhofman.nl)
No Comments »
No comments yet.