Utrecht's Hoog Catharijne shopping mall turns 40 today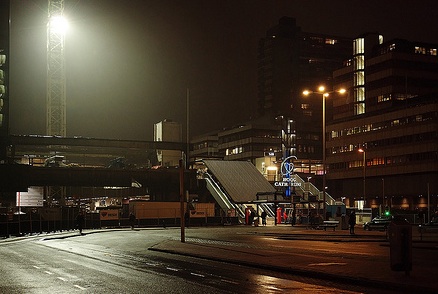 The Hoog Catharijne shopping mall in Utrecht, which encompasses the largest and busiest train station of the Netherlands, is turning 40 today. In 2016 it will also feature one of the world's biggest bike garages.
Hoog Catharijne is currently being rebuilt, and a large part of the area around the train station is under construction. The buses below change places every couple of weeks and the traffic needs human help at street level to get going. Hoog Catharijne is one of the busiest Dutch shopping malls, and according to many, not one of the prettiest. When travelling across the country, popping out at Utrecht Central Station to go shopping for clothes or gifts without going outside in the pouring rain is a real plus.
Here's the promotional video of what it will look like fully rebuilt in 2019 presented in Dutch is a sales pitch with a lot of 'experience this' and 'discover that'. It has an all-white, fit and young cast as well, which doesn't reflect reality. Sailing over the Catharijnesingel does sound cool: digging up canals is trendy because waterfront property is expensive. Charging up your electric car for free has to be a good thing although I can imagine that for the price of parking your car indoors, it isn't a strong selling point.
Watch the old school 1970s promotional video for Hoog Catharijne in Dutch featuring key expressions as 'oriented towards the future' and mentions of Postwar rebuilding.
(Link: www.nrc.nl, Photo of Hoog Catharijne by Jeroen Bosman, some rights reserved)
1 Comment »
I couldn't help but notice that the bicycle seems completely absent from the whole discussion in the 1970 promotion film.
"Oriented towards the future" they said? Definitely a project of the past in my opinion.
I'm glad to see that this new project will restore what's been lost due to decades of "happy motorism".

Comment by Colibri — September 26, 2013 @ 10:11 am