Runner's chip took away the need to cheat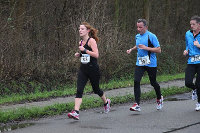 On Sunday 17 November the 30th edition of the Seven Hills Run in Nijmegen will be held.
About 20 years ago I was a volunteer for the event and I had to guard one of the four starting cages, which taught me a thing or two about human nature.
The Seven Hills Run was and is an immensely popular race along 15 kilometres of undulating roads in and near Nijmegen. Both the global running elite and recreational runners take part. To ensure that the latter would not rob the former of fast finishes—the outdoor world records for 15 kilometre runs have been set at the Seven Hills course for both men and women—the runners were divided into four cages before the start, with the fastest group in the first and the slowest in the last.
At the start of the race, the cages would be opened back and front. The inevitable result was that the slower runners would not pass the starting line until minutes after the start, so that their official time would be composed of their running time and then some. My job at cage three was to make sure that only the people with the right starting number were allowed in and to redirect the others to their cage.
I received threats of violence that day and at one point a runner was so livid that he blocked the entrance to the cage and refused to go away. Thirty runners (my personal count) were sure that the faster cage was their rightful place. I got to redirect exactly one runner to a faster cage—I assumed that she was genuinely mistaken.
Around that time a company was founded by several students of the local university that produced an RFID transponder, the ChampionChip, that would make skewed race times a thing of the past. A computer would register the runners both when they passed the starting line and when they passed the finish line, and immediately spit out the right times. During the 25th anniversary of the race, the organisers even used the ChampionChip transponder (now owned by MYLAPS from Haarlem) to honour the 250,000th runner right after her finish.
I imagine that getting one's exact time took some of the edge off the aggression and the need to cheat of some runners.
(Photo by Peter van der Sluijs, some rights reserved)