Dutch country music to hit Eurovision Song Festival 2014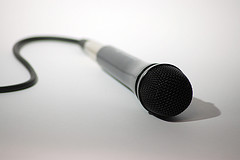 Sung by established Dutch artists Ilse DeLange and Waylon as a duet under the name The Common Linnets, this year's Dutch entry for the Eurovision Song Contest in Copenhagen has 'no chance in winning whatsoever', according to widespread online criticism by music business folks. I tend to agree.
You need a catchy song, something either people can sing along to the chorus (the 'hook' – think of the power of 'here's my number, so call me maybe') or something that people can remember even if it is sung in a foreign language, in this case a guitar riff, a weird outfit or even a cool dance routine.
'Calm After the Storm' is a sort of country song, which is traditionally not a good choice. When Germany tried to go all American country in 2006, they got slammed, and that year Finland's metal band Lordi won. I remember it well, as I was coincidentally in Copenhagen watching the delectable slaughter on telly.
The Dutch entry doesn't modulate, both singers cancel each other out, the range is too low especially for Ilse, as I can barely make out what she's singing. In fact, the title of the song is mangled to suit the music, as the word 'after' is pronounced 'afTER' instead of 'AFter', giving it a Dunglish feel. The pulsating guitar rhythm faintly reminds me of 'Every Breath You Take' by The Police. Listen to it, and hear them modulate like bosses, especially the bridge.
At least Anouk's song 'Birds' of last year I can still remember and sing along to it.
Listen for yourselves:

(Link: www.volkskrant.nl, Photo of Microphone by visual dichotomy, some rights reserved)
2 Comments »
[…] (Dutch country music to hit song festival, Photo of Microphone by visual dichotomy, some rights reserved) […]

Pingback by 24 oranges » A bit like football: UK afraid of the Netherlands — May 8, 2014 @ 12:41 pm

[…] year's second place win 'Calm After the Storm' by The Common Linnets, which received its share of criticism, is now the one to beat. Unfortunately, there's […]

Pingback by 24 oranges » Eurovision gets Dutch pop singer Trijntje Oosterhuis — March 31, 2015 @ 3:06 pm