Government buys into harnessing electricity from plants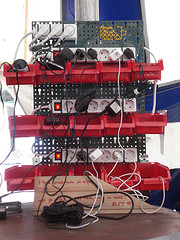 Plant-e , founded by David Strik and Marjolein Helder in 2009, is a spin-off company of the Environmental Technology of Wageningen University. After obtaining her PhD in November 2012 Helder became the CEO of Plant-e, while Strik works as an assistant professor at the university, supporting Plant-e's research and development one day a week.
On March 12, coinciding with Dutch Arbour Day ('Nationale Boomfeestdag'), Plant-e signed a deal with the Dutch government to build a plant-driven power plant. The plants will be grown on the Hembrug military terrain in Zaandam, North Holland and will be used for outdoor lighting and charging mobile phones.
Thanks to photosynthesis, a bioenergetic process used by plants to convert light into energy, plants create organic material. The roots of these plants contain bacteria that breaks down organic material, giving off electrons. Plant-e has created technology that captures these electrons as carbon electrons, which can be used directly as electricity.
Just this month we told you about a table that uses plant energy to charge mobile phones.
Watch the promo video (in English):
(Link: www.plant-e.com, Photo of Charging station by Katja Linders, some rights reserved)
No Comments »
No comments yet.