Google Naps maps good places to crash outdoors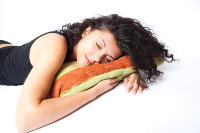 In the spirit of April's Fool, Dutch creative agencies Venour of Rotterdam and cartoonist Kakhiel (held up in a secret lair) created Google Naps, a parody of Google Maps, although it does give excellent tips about where to crash outdoors. Just like the real Google tool, Google Naps allows users to plot out specific locations on interactive online maps.
Writing this in downtown Munich next to the beautiful Isar river and its big city parks, Google Naps is telling me the place I relaxed under the sun with friends and beers was a good place to get some sleep and I agree. However, everyone can put in a suggestion and so sleeping under a bridge may not be everyone's cup of tea.
The creators also put in a Dunglish disclaimer just for Google's founders, asking them to not get upset and not sue them because they don't have any money. They then say, "whenever you are in the Netherlands you can have a nap on our couch if you want, just e-mail us: kakhiel@gmail.com. We can also make coffee and bake eggs if you like that (for a small price)."
(Link: www.ctvnews.ca, Photo by Flickr user RelaxingMusic, some rights reserved)
No Comments »
No comments yet.