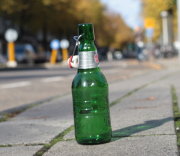 To all the unilingual English speakers who keep saying they can't learn Dutch after years of being here, maybe you should take a page from these American kids: fake it until it sounds vaguely Dutch. Top tip: don't be afraid of sounding or looking stupid, either. Half way through the video the guys get asked questions about the song, a bit like a Dutch exam, but with more adult content.
'Drank & Drugs' ('Booze and Drugs') by Lil Kleine & Ronnie Flex is going viral, and we're joining in. The first guy can at least says something remotely Dutch on the beat, while the second guy can't seem to get it right. OK, the 'spaghetti' bit is funny.
It's not 'impossible to translate' as the link suggests, considering many words are Dutchified English words anyway, but booze, drugs and bitches ("if they are bitches," says the first guy) is common fare, pardon the pun.
And for the fans, here's the original version:
(Link: www.deondernemer.nl)