Dutch parody of Chilean football commercial upsets Chileans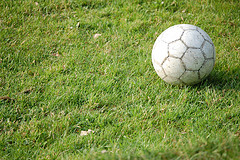 The 33 mine workers of Chile who were stuck underground for 60 days in 2010 have produced a dramatic commercial to support the Chilean football team where they mention parts of their terrible ordeal and what they were able to withstand. Recently, some Dutch comedians decided to make a parody of it, which has apparently annoyed many a Chilean if we believe the media.
Instead of seeing it as an amusing parody of ¢ Chile World Cup commercial, some people see it as Dutchmen taking the piss out of the miners, which I actually find offensive. The way they used the miners to shoehorn a message about Chilean football comes off as over the top and exploitative to me in the first place, and opens them up to criticism regardless. If the miners had made a documentary about their ordeal and the Dutch had parodied that, it would have me leaning more towards the Chileans, but not in this case.
Here is the Dutch parody of Chilean World Cup commercial (with Dutch and not so good English subtitles):
And here is the original, which is much shorter:
UPDATE: I asked an expat friend in Santiago about the parody and he said a Chilean friend had actually sent him the link to the video.
(Link: www.waarmaarraar.nl, Photo of Football by Bramus, some rights reserved)