Protesting free Wi-Fi that doesn't even work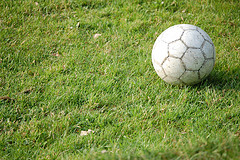 With a banner that probably made international news because it featured the word 'fuck' on it and was written in English, PSV Eindhoven supporters were recently sporting a banner at a game that read "Fuck Wi-Fi, support the team".
After paying good money to attend a football game, the last thing many fans would be caught doing is staring at their mobile phones. The thing is, free Wi-Fi is great because you can take pictures and post them to social media about all the fun you're having. You can also throw the score up on Twitter and check if the media has more news on the player they just carried off the field than you would get at the stadium.
Omroep Brabant has claimed that the Wi-Fi connection is crap, which is not good advertising for a tech region made famous by brands like Philips and ASML.
However, many of us in the Netherlands can just turn on 4G and ride the interwebs. Banning something that is free and doesn't even work seems like a waste of time, but we do get the point that it's about joining in and not being a douche with your phone.
(Link: www.omroepbrabant.nl, Photo of Football by Bramus, some rights reserved)
No Comments »
No comments yet.