Entire stock of Sinterklaas toys sold in one day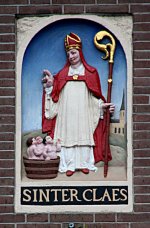 There's already Sinterklaas treats in the shops, we've spent the summer in controversy with 'Zwarte Piet' and now in Ede, Gelderland, there's a run on toys featuring the soon to be phased out black festive helper.
Online webshop Lobbes.nl based in Ede has sold all its Fisher Price Sinterklaas sets in one day. We're not talking millions of sets, but the run on the toys did not go unnoticed. Fisher Price has announced that it will stop producing its traditional sets following complaints related to the figure of Zwarte Piet deemed racist by the courts.
What I'm thinking is in the years to come when the Dutch will be getting used to the phasing out of Zwarte Piet, anyone who has Zwarte Piet toys or decorations will make some extra cash. For all we know, they'll import stuff from China if they're not already doing that. And one day, a bit like gollywogs they'll be seen more ironically than as actual festive figures.
(Link: www.gelderlander.nl, Photo by Aloxe, some rights reserved)
1 Comment »
[…] Entire stock of Sinterklaas toys sold in one day (24oranges.nl) There's already Sinterklaas treats in the shops, we've spent the summer in controversy with 'Zwarte Piet' and now in Ede, Gelderland, there's a run on toys featuring the soon to be phased out black festive helper. […]

Pingback by Traditionalists Vow to Fight Charges of Racism in Netherlands | Stepping Toes — October 10, 2014 @ 5:16 pm