Church gets new life as trampoline park in The Hague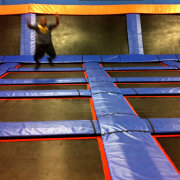 A trampoline centre in The Hague is the latest in a long list of businesses in the Netherlands to open in a former church building.
Planet Jump opened in the Martelaren van Gorcum church in The Hague earlier this month. Cheekily dubbed a 'trampoline paradise' by Den Haag Direct, they are open seven days a week. Have a look at the photos on their website.
Repurposing a 'holy' building may seem a little irreverent, but as we wrote earlier, it seems that people prefer repurposing over tearing down. These buildings have memories of baptisms, weddings and funerals attached to them, after all.
Also, in what other church could you achieve so many instant ascensions in an hour?
The name Martelaren van Gorcum means martyrs of Gorcum and refers to 19 catholic officials who were killed in 1572 by Dutch Protestant freedom fighters.
See also: The man who sells church interiors
(Photo of a trampoline park in Memphis by Memphis CVB, some rights reserved)