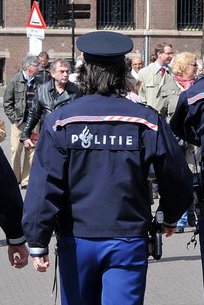 Never mind kruidnoten already being stocked in a Dutch shop this summer, today the court in Limburg ruled that a policeman has been found guilty of neglect of duty by way of tasteless Sinterklaas poetry.
Usually for Sinterklaas when people give gifts to each other, they also write funny poems about its recipient. However, one man thought it would be laugh to write a hurtful poem about a female colleague, making fun of her failed relationship [they were going to marry, but that didn't go through] with another colleague.
And it gets worse: he decided to read the poem out loud in front of 140 colleagues dressed as Sinterklaas. The end of the poem basically says 'now you're stuck celebrating Christmas on your own', and then he sang a song about being lonely at Christmas.
The court said this showed zero respect for the female colleague, and has now had 16 hours of 'furlough' revoked, which by the way is from the Dutch 'verlof', basically meaning time off.
Even if the man disliked the woman and/or the other colleague involved – we don't know – I don't understand why he thought this form of humiliation was in any way funny or appropriate.
(Link: nu.nl, Photo by Facemepls, some rights reserved)