Bike path with solar cells finally being built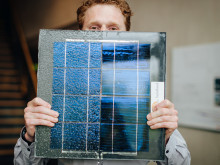 In 2011 we had a story about a Dutch bike path with solar panels to be built in Krommenie, North Holland by SolaRoad in 2012, but apparently construction is happening right now in October 2014.
A straight stretch of 70 metres of bike path is being fitted with a concrete base, topped with a 1 cm thick layer of crystalline silicon solar cells. The solar cells will be protected by a thick, heavy-duty glass surface strong enough to drive a truck over it.
The Netherlands' 140,000 kilometres of bike paths could be built out of 400 to 500 km2 of solar cells, which would provide a much bigger surface than the total roof surface of all Dutch houses, to give you an idea of future possibilities.
(Link: motherboard.vice.com, Photo: SolaRoad)