A Dutch bike path with solar panels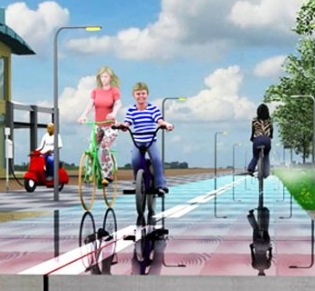 In 2012, the town of Krommenie, North of Amsterdam, will have cool bike paths made up of solar panels. And there'll be roads with solar panels as well.
Developed by the Province of North Holland, the Ooms Avenhorn Group and Imtech, the solar bike path will be constructed with a concrete base, topped with a 1 cm thick layer of crystalline silicon solar cells. The solar cells will then be protected by a thick, heavy-duty glass surface strong enough to drive a truck over it. The SolaRoad is estimated to generate 50 kw hours of electricity per square meter per year which will be used to power street lights, traffic systems, and perhaps even households along the SolaRoad system.
(Links and photo (thanks Jay!): metaefficient.com, tno)
4 Comments »