Shell from Java features oldest ever engraving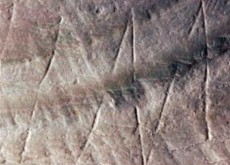 A 500,000-year-old shell found on Java in Indonesia is said to feature the oldest ever engraved geometrical pattern. The zig zag pattern, which can only be seen with oblique lighting, is said to be older than the weathering processes on the shell arising from fossilisation. As well, the study excluded the possibility that the pattern was created by animals or natural weathering processes.
The shell will be on display in the Naturalis museum in Leiden from 4 December onward.
By applying two dating methods, researchers at the VU University Amsterdam and Wageningen University have determined that the shell with the engraving is minimally 430,000 and maximally 540,000 years old.This means that the engraving is at least four times older than the previously oldest known engravings, found in Africa. An international team of researchers, led by Leiden archaeologist José Joordens, published this discovery on 3 December in the periodical 'Nature'.
(Link and photo: www.sciencedaily.com)