Dutch-American company to make marijuana gum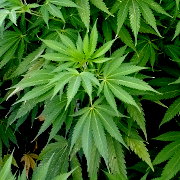 Dutch-American company Axim is working on the world's first medicinal marijuana chewing gum, which will be produced in Almere, Flevoland. It should be on the market in two years and it is currently being tested on Dutch patients who have chronic pain due to multiple sclerosis. This special chewing gum will work like nicotine gum, with the cannabis being absorbed slowly by the body in some 20 minutes.
You can easily buy 'nutraceutical' chewing gum that contains cannabidiol (CBD), the non-psychoactive component of pot, but Axim plans to make chewing gum with THC in it, the psychoactive ingredient of pot for patients who suffer chronic pain from many different medical conditions.
(Links: www.foodlog.nl, www.in-pharmatechnologist.com)