Half Moon ship to make historic journey to Hoorn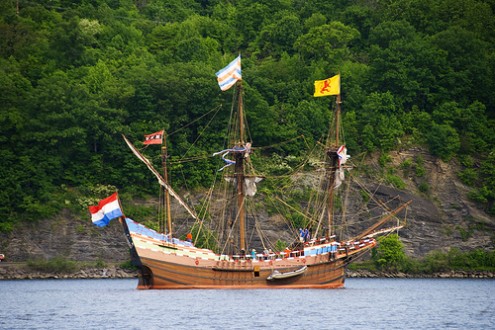 The New Netherland Museum in Albany, New York will soon be saying 'bon voyage' to their Half Moon ('Halve Maen') replica, originally a Dutch ship from 1609. Owing to financial difficulties, the city of Hoorn, North Holland that already serves as a retirement home for many old vessels, has agreed to care for the 1989 replica, with the museum retaining ownership.
The Half Moon was used for educational purposes, teaching people about explorer Henry Hudson who came to the New World in 1609 for the Dutch East India Company on board the Dutch ship. Nobody knows yet how the ship will actually cross the Atlantic.
"From the moment the keel of the Half Moon was laid, it has been my ambition to see the Half Moon sail in Dutch waters," said Andrew A. Hendricks, founder and chairman of the New Netherland Museum/Half Moon Replica. "After 25 years of service as the unofficial flagship of the state of New York, the Half Moon will have the opportunity to sail in the Netherlands."
(Links: www.timesunion.com, en.wikipedia.org, Photo of Half Moon ship by Katy Silberger, some rights reserved)
No Comments »
No comments yet.