'My first day with my drone' goes viral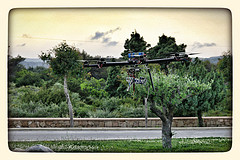 Zwier Spanjer, 26, was playing with his new DJI phantom drone for the first time and it all went South, which you can see and hear on the video at about 0:26 when it starts to sound like a swarm of killer bees descending on an unknowing Dutch village.
At the moment of writing this, the video had over two million hits on YouTube and according to Vice.com some 7 to 8 million hits on Facebook and other social media. Be sure to watch the 15 second 'love edition' as well.
(Link: www.vice.com, Photo of Drone by Karen Axelrad, some rights reserved)
2 Comments »
[…] had another great drone fail that went viral a while back, the 'My first day with my drone' film, which also goes great with coffee and […]

Pingback by 24 oranges » Chimpanzee swats drone like a boss, goes viral — April 15, 2015 @ 9:41 pm

[…] in the Netherlands do come crashing down, sometimes they even crash and burn, but they also capture really cool […]

Pingback by 24 oranges » Rules for flying drones still disadvantage businesses — May 1, 2015 @ 2:54 pm