Dutch people may be tall because of natural selection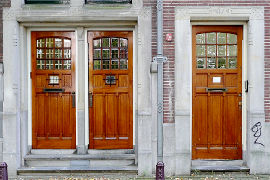 The Dutch are among the tallest people in the world. According to the Guardian, Dutch men average a height of 1.84 metres and women a height of 1.71 metres.
Although no-one knows exactly why this is, it has long been held that health and well-being may have something to do with it.
Cue Gert Stulp, a 2-metre-tall Dutchman working at the London School of Hygiene & Tropical Medicine who says the impressive rise of 20 centimetres in the past 150 years may have to do with natural selection. Writes Science:
[Stulp] and his colleagues turned to a database tracking key life data for almost 100,000 people in the country's three northern provinces. The researchers included only people over 45 who were born in the Netherlands to Dutch-born parents. This way, they had a relatively accurate number of total children per subject (most people stop having children after 45) and they also avoided the effects of immigration.

In the remaining sample of 42,616 people, taller men had more children on average, despite the fact that they had their first child at a higher age. The effect was small—an extra 0.24 children at most for taller men—but highly significant. (Taller men also had a smaller chance of remaining childless, and a higher chance of having a partner). The same effect wasn't seen in women, who had the highest reproductive success when they were of average height. The study suggests this may be because taller women had a smaller chance of finding a mate, while shorter women were at higher risk of losing a child.
The result is that if tall-making genes exist, they get passed onto the children of tall men.
See also: Why are the Dutch so tall?
(Photo by Metro Centric, some rights reserved)
No Comments »
No comments yet.