Drone with asparagus crashes and burns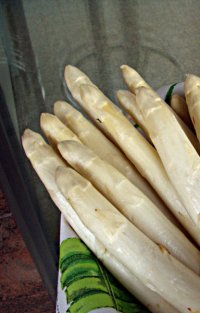 Having a drone deliver asparagus to your restaurant to ring in the new season on 1 April was a novel idea and a great publicity stunt for restaurant De Zwaan in Etten-Leur, Noord-Brabant, but it didn't go exactly as planned.
Plan B was landing the drone nearby in case of wind and then taking a walk to pick up the asparagus, but that didn't pan out either, as the drone went with Plan C, which resulting in a crash-and-burn scenario.
The drone made a stop along the way to change batteries, which went well, but the takeoff afterwards eventually turned into a nose dive and a pile of flambé white asparagus.
I'm already curious as to what delivery method they are going to try next year.
(Link: www.omroepbrabant.nl, Photo of asparagus by Stephan Mosel, some rights reserved)
1 Comment »
[…] in the Netherlands do come crashing down, sometimes they even crash and burn, but they also capture really cool […]

Pingback by 24 oranges » Rules for flying drones still bad for businesses — May 1, 2015 @ 2:55 pm