Win tickets for the Kunsthal in Rotterdam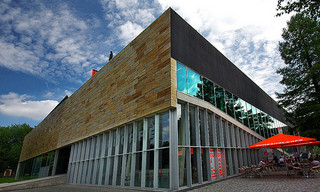 Roomed.nl is giving away three pairs of tickets to the Kunsthal in Rotterdam, which is currently featuring many 'freaky spring' exhibitions, including 'Your Light is My Life' by Czech artist Krištof Kintera, running until 7 June.
Kintera's solo exhibition is said to be full of irony, mixed with slapstick and dark humour, as well as some political statements. His sculptures and installations can move, communicate, are dysfunctional, and sometimes just plain absurd.
Also on the menu are the exhibitions '200 years of the Kingdom of the Netherlands', 'The Furry Adventures of the Cabbit and the Folk' and enough art to make your visit complete.
(Link: roomed.nl, Photo of Kunsthal by kleiobird/Jaap Vogel, some rights reserved)