Prodigy clip by Dutch director poised to win award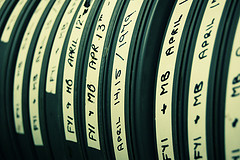 Seasoned Arnhem stop motion filmmaker Mascha Halberstad is up for a Berlin Music Video Award 2015 thanks to a video she made for the UK band The Prodigy of their song 'Wild Frontier'. Frontman Liam Howlett asked her personally to make the video, and according to De Gelderlander, she is a favourite to win the German award.
Featured on the album 'The Day Is My Enemy' from February 2015, here's 'Wild Frontier':
(Link: www.gelderlander.nl, Photo of film cans by tallfoot, some rights reserved)
No Comments »
No comments yet.