Football club brings VIP supporters to away game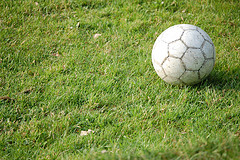 Deventer's football club the Go Ahead Eagles held a contest, and the prize was a dream trip to the club's next away game in Hungary for two on 9 July. Problem is, the club's away game against Budapest's Ferencváros was to be held behind closed doors, with no supporters allowed due to some penalization given to the Hungarian club by the UEFA.
The couple who won the prize, Henk de Haan and his wife, a long-time volunteer, were afraid their dream trip would be cancelled. The aptly named Go Ahead Eagles put their heads together and came up with a solution: they are going to make the couple board members of the club today so they can come along. The couple are to appointed to the board later today.
(Link: www.ad.nl, Photo of Football by Bramus, some rights reserved)
No Comments »
No comments yet.