'Van Gogh ice cream taste like potatoes'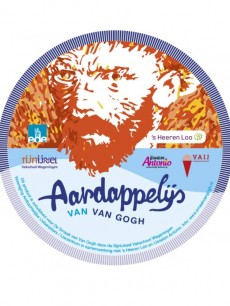 The city of Ede, Gelderland, working towards profiling itself as a food town (Dutch), has produced Vincent van Gogh ice cream that it said to taste like potatoes for its Vincent van Gogh year 2015. The special taste was inspired by Van Gogh's The Potato Eaters, which hangs in Amsterdam's Van Gogh Museum.
Earlier this year the mayor of Ede presented Vincent beer. Vincent beer, Van Gogh ice cream and tons of other food will be available during the two-day event Food Unplugged on 26 and 27 June, with 600 food professionals in attendance.
(Link and image: www.gelderlander.nl)